Key Lime Pie
Mike and I don't really do Valentine's Day. We have nothing against it, but it seems like every time we put too much pressure on ourselves to be romantic and go out with the tiny tables, and pre-selected menus we end up not having that great of a time. Most of the time we don't even get each other gifts. So, I was surprised when I got a request…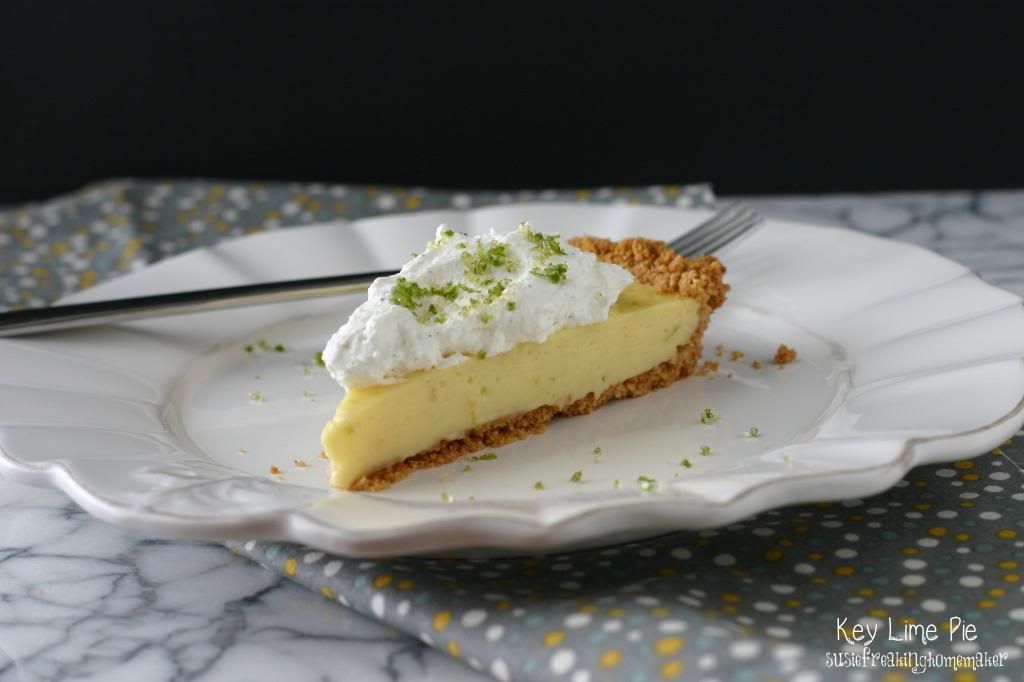 We were on the couch, and Mike just all of a sudden said "I would like a gift for Valentine's Day this year!" I was a little skeptical that he was going to ask for something totally bizarre. The verdict? He wants a subscription to National Geographic magazine… and a key lime pie. Seriously? I love this guy.
I've never made a key lime pie – let alone tasted one. I looked up recipes and they were all pretty much the same (and a little boring if I say so myself). I whipped this one up and he loved it. Happy Valentine's Day to us!
Key Lime Pie
Yield: 8 slices
Prep Time: 10 minutes
Cook Time: 20 minutes
Total Time: 1 hour 30 minutes
Ingredients:
For the Crust:
2 sleeves of graham crackers
1/2 cup of butter, melted
For the Filling:
1 tablespoon lime zest
1/2 cup fresh lime juice
2 egg yolks
1 (14 oz.) can of sweetened condensed milk
For the Whipped Cream:
1 and 1/4 cup heavy whipping cream
1 vanilla bean
2 tablespoons powdered sugar
For the sugar:
1 teaspoon lime zest
1 teaspoon turbino sugar
Directions:
Preheat your oven to 350 degrees.
Crush your graham crackers and melt your butter. Combine in a bowl with a fork, mixing the butter thoroughly into the cracker crumbs. Grease a 9 inch tart pan and press the graham cracker crumb mixture into the bottom and around the sides. Bake for 5 minutes and set aside to cool.
Beat together the ingredients in the filling and pour into the crust filling. Bake for another 15 minutes. Let the pie cool, then place in the fridge for about an hour - or more.
Beat the ingredients for the whipped cream together and place in the fridge.
Then mix together the sugar and the lime zest.
Bring it all together - slice the pie, cover with whipped cream, and sprinkle with the sugar/lime zest mixture.