Cilantro Lime Grilled Corn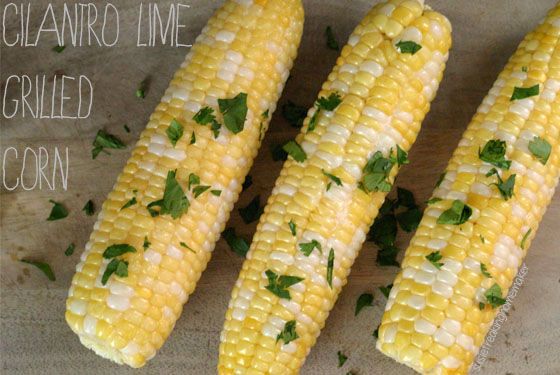 Sometimes, dear readers, I stare at that blinking cursor and I draw a blank. What on earth do you guys actually want to hear about? My life? The food? The news? Articles I've read this week? TV shows I can't stop watching? {Read: writer's block, party of one!}
Last weekend was the breaking point for us, we have had plans every single weekend of summer. Some of those things were obligations, some were by choice, but either way we have just had too much going on. So, we opted out of everything we possibly could; including a birthday party and a weekend at the cabin. Sometimes, you just need to re-charge!
Re-charge we did. Friday we tossed out every idea we could think of, but we still refused to commit to anything. The end result was a weekend that felt long! We cooked, we ate, we went to the zoo, we spent a really lazy afternoon at the pool, visited our favorite bar tender, hung out with our neighbors and just plain relaxed. I even started my week all caught up on sleep!
Can we please take a moment to think about the fact that August is here? Le Sigh. August means that summer is coming to a close, and part of me is always sad to see it go. I've already noticed the subtle changes in the daylight. Fall is my favorite weather though – scarves and boots are my jam!
Now, moving onto this corn. When you think about it, this post was inevitable. Cilantro and lime is hands down one of my favorite flavor combos. Come to find out, it's pretty damn good on sweet corn!
Cilantro Lime Grilled Corn
Yield: 2 servings
Prep Time: 5 minutes
Cook Time: 20 minutes
Total Time: 25 minutes
Ingredients:
3 ears of fresh sweet corn, husks removed
2 tablespoons butter, sliced
salt and pepper, to taste
1/3 cup of cilantro, minced
3 lime wedges
Directions:
Remove the husks of your corn and set the clean cobs aside. Rip a piece of tin foil off that will fit around each individual ear of corn. Slice the butter thinly and place about 3 slices on each piece of tin foil. Sprinkle salt and pepper on top of the butter. Place an ear of corn on each slice of tinfoil. Wrap them individually and place on a hot grill for about 20 minutes.
When you pull the corn off, carefully unroll the corn. Squeeze a slice of lime on each and sprinkle with cilantro.