Healthy Candy Bars
These bars are sweet like actual candy bars and provide the real candy bar craving with a swift kick in the pants. Conveniently, they don't make your actual pants tight.
This is my new favorite thing to eat for dessert. It's an excellent one, two punch : healthy and chocolaty and it gives me the fix I need at the end of any meal! I've been attempting to clean up my diet lately. I will never understand why God makes the things that we are allergic to taste so damn good. It just doesn't seem fair that cheese and crackers are my favorite snack, and cream sauces and things covered in cheese are a little slice of heaven to me.
Now, dear readers, don't you worry. I won't be changing things too much. I'm currently attempting to make simple swaps. For example, I'm eating gluten free bread, gluten free tortilla chips and avoiding cow's milk wherever possible. Nothing too dramatic, I promise!
First thing's first – I had to phase out my morning toast. So, breakfast is a slice of Rudi's bread with 1/4 of an avocado mashed and pressed on top. Then I sprinkle salt and pepper over it. Hit it with a little bit of lemon juice and when you are bored, slice a couple of grape tomatoes over the top. Try and tell me that doesn't sound good. It's becoming a habitual snack. At some point I will photograph it and post it.
The other thing Mike and I snack on regularly is chips and salsa. Try and tell me they don't always sound good. Next thing on my list is to swap out our chips for Garden of Eatin' yellow chips. Again, gluten free. I've stopped snacking on yogurt and decided to eat more raw nuts and dried fruit.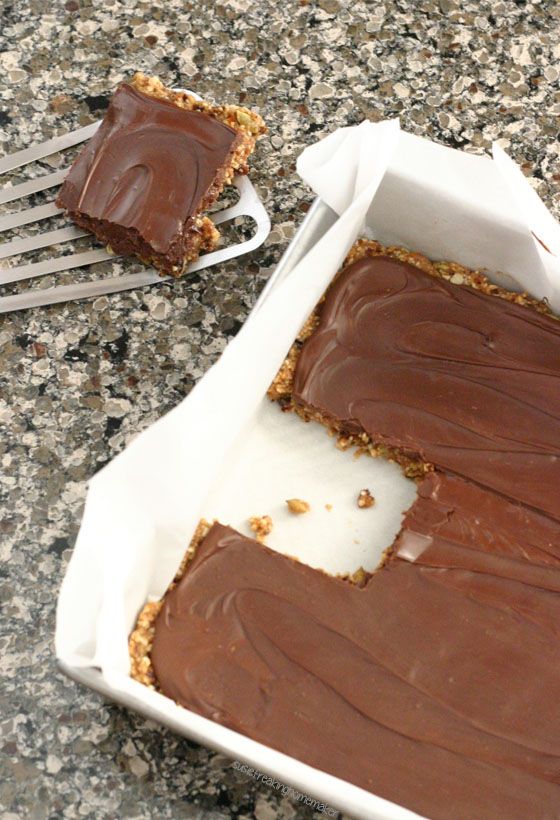 One week down of just a few simple swaps and my pants are lose, my skin is clearer, my joints are more flexible and my nose looks like I've gotten it done. What I've decided is that inflammation is the devil. I've been sleeping like a baby on top of everything else.
I'm incapable of actually sticking to a diet, I don't know about you guys. But, a few simple swaps to make me feel better? I'll take it. Easy to sacrifice when the consequence is feeling like garbage.
Healthy Candy Bars
Yield: 8-10 servings
Prep Time: 10 minutes
Total Time: 2 hours 10 minutes
Ingredients:
1 and 1/2 cups of raw cashews
1 and 1/2 cups prunes, pitted and roughly chopped
1/2 cup almond butter, warmed
1/3 cup of pure maple syrup
1/2 cup of raw pecans
1/2 cup of dry oats
1/4 cup of pumpkin seeds
1 and 1/2 cups of chocolate chips
Directions:
In a food processor, pulse the raw cashews until they are a very fine consistency. Next, add the prunes, raw pecans, dry oats, and pumpkin seeds and pulse until everything is crumbled. Add in the almond butter and syrup and pulse until well combine.
The mixture will be sticky. Press into a 9x9 square pan lined with parchment paper. Place in the fridge for an hour. Then melt the chocolate chips and spread over the top. Place back into the fridge until the chocolate is set.
At this point, you can pull the bars out using the parchment paper and slice into small bars. Store in an airtight container in the fridge or freezer. Personally, I like them frozen!
Notes:
*Swap the dry oats for coconut, quinoa flakes or almond flour and make sure your chocolate chips are dairy free to have a GF, DF, Vegan dessert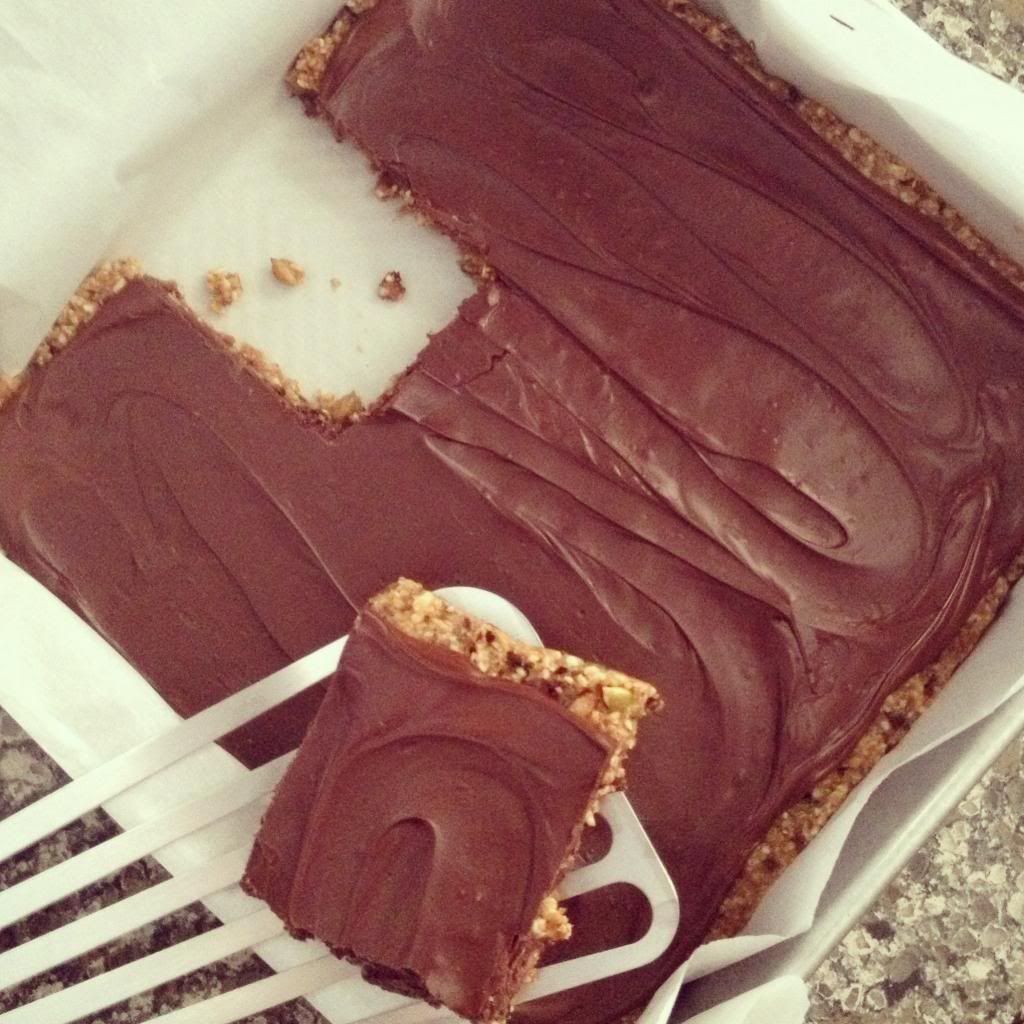 Please note – I added a new category on the blog called "Clean Eats" I will add to it over time. Consider it the ultra "Ass Friendly" category!