Beef Stew
This is the perfect response to the acorns in my front yard and the crunchy leaves I've been going out of my way to step on. This actually marks the first time I've made beef stew, and I was happy to bust out the crock pot and simply let it simmer.
I have been regularly running again, it's been so long that I had forgotten the fact that I turn into a human garbage disposal when my metabolism revs up. I can't seem to keep enough snacks on hand lately. But, it feel so good to be sore for an actual reason.
Not even remotely why you're here, right?
Right.
I have another show to discuss.  Please tell me I am not the only one who discovered Ray Donovan? It's on show time and I decided that I needed to check it out on a Sunday. Yea, I ended up watching 9 episodes and they are an hour each. He's a "fixer" for a law firm and his dad gets out of prison and the FBI wants to take Ray and his associates down and you should just really watch it. Because it's good.
You know what else you should do? Make this beef stew. It's comfort food through and through. Which means it's a no frill recipe, none of the usual spices, and none of the usual fuss. You know you want it.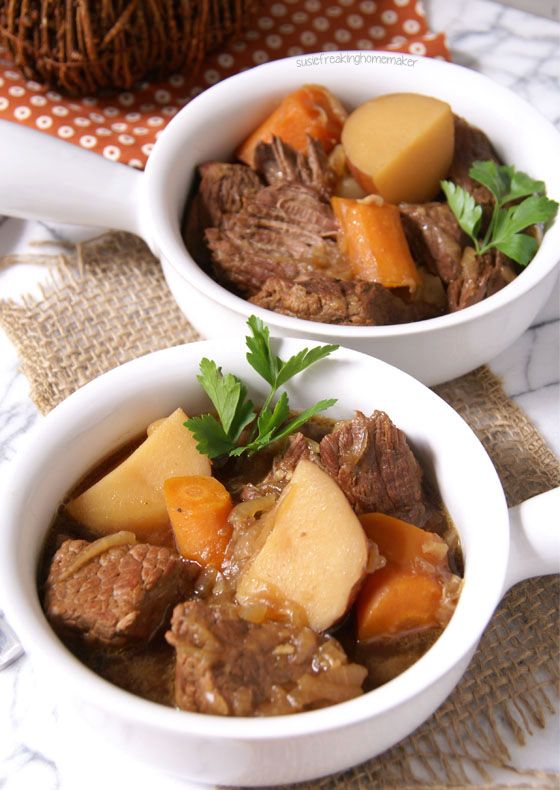 Beef Stew
Yield: 4-6 servings
Prep Time: 15 minutes
Cook Time: 6 hours
Total Time: 6 hours, 15 minutes
Ingredients:
1 lb. beef chuck, cut into 1 inch cubes
2 teaspoons of olive oil
3 onions, thinly sliced
2 tablespoons butter
4 cloves of garlic, minced
1 bottle of dark beer, I used porter
2 and 1/4 cup beef stock
10 red potatoes, cut into 1 inch chunks
3 carrots, peeled and chopped into 1 inch chunks
1/2 cup of fresh parsley, chopped
Salt and Pepper, to taste
Directions:
1. In a deep pot, heat the olive oil on medium heat. Dry the cubed meat and place in the hot skillet. Brown the pieces on all sides and place in the crock pot.
2. Add the butter to the same skillet and add the sliced onions and the minced garlic to the pan. Saute for 5 minutes, then place in the crock pot.
3. Add the remaining ingredients to the crock pot, set on high and walk away for 4 hours. Change the setting to low and cook an additional two hours. *You can just cook on low for 8 hours instead.
When it's done, the beef just falls apart, but the carrots and potatoes are just soft. Serve with crusty bread, and cheese if you so choose.