Chicken Satay
Easiest chicken satay ever, it's just a bonus that once it's done it looks like it took a lot of effort. Serve it up with something out of the fridge for dipping.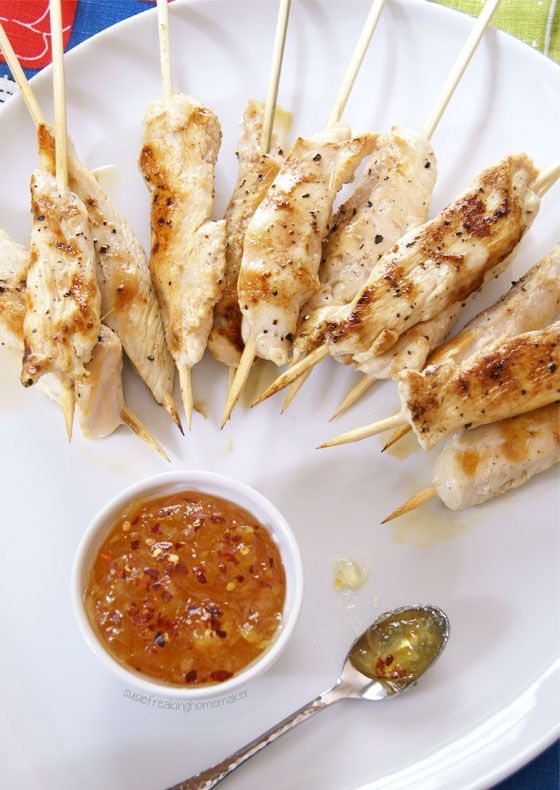 So, football season came out of no where.
I have been so focused on pumpkin spice lattes and scarves that I completely forgot about football. All of a sudden Mr. SFH is wondering where the food for the game is and I look at him like he has a 3rd eye. Oops.
I had already been to the grocery store twice over the weekend and I just could not bring myself to go back. So, a pound of chicken and orange marmalade sprinkled with crushed red pepper flakes would have to do and as it turns out… we have a winner.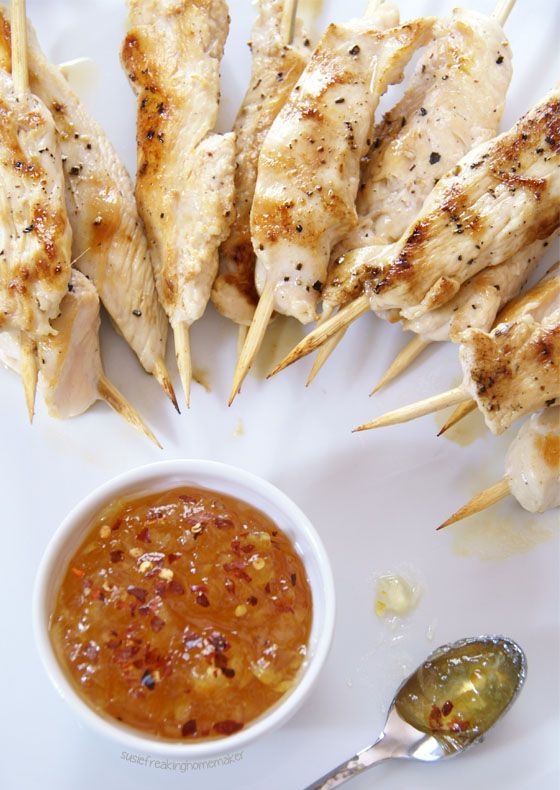 I don't know about you guys, but I am anxiously awaiting fall TV premieres. I am one of the few people who can't watch reality shows – no dancing with the stars or housewives for me. I'll take Bones, How I Met Your Mother, Blue Bloods and Once Upon a Time over that 'reality' nonsense any day.
Chicken Satay
Yield: 4-6 servings
Prep Time: 15 minutes
Cook Time: 15 minutes
Total Time: 30 minutes
Ingredients:
1 lb. boneless, skinless chicken breasts
1 tablespoon olive oil
1/3 cup of orange marmalade
Crushed red pepper flakes, to taste
Directions:
Soak 12-15 skewers in water for about 15 minutes.
On a cutting board, lay out your chicken breasts and cover with parchment paper. Pound them until they are about 1/2 inch thick. Slice them into 1 inch strips and thread each one onto a skewer. Brush with olive oil, salt and pepper.
In a small bowl, stir the orange marmalade and the crushed red pepper flakes together. Place the skewered chicken on a hot grill and cook for 2-5 minutes on each side. Serve hot with the sauce on the side.