Reuben Sandwich
The reuben sandwich is a classic, and it's also a favorite of ours. If we are really honest, you should know that you cannot have a reuben sandwich without the perfect dipping sauce. We created our own version of a russian style fry sauce and it brought the whole thing up a notch.
My apologies for the lack of a post on Monday. You see, I currently have about five posts back logged just waiting for the perfect thing to say and of course a few extra hours that I can find to devote to the actual posting of it.
This past weekend I was really productive. I got that stuff done that has been on my list for.ever. For example, I spent three hours re-organizing my closet – switching the fall stuff in and the summer stuff out and on top of that I gave away another two bags of old clothing, shoes, purses, etc. that I never wear or use.
I spent my Sunday in the kitchen, as usual. This time I had company, cute company to boot. Sweet baby Abigail and her mommy. We made salted caramel and banana bread pudding, pumpkin bread with apples, roasted tomato basil soup, and bacon, Havarti and strawberry jam paninis (here). Afterwards, I went home and I thought I would burst if I took just one more bite of anything.
When I got home, my husband gave me the look that tells me he's hungry and I got right back into the kitchen. You all know how much we love Reuben sandwiches. We finally decided to try our hand at making them. Of course, our standards are high (Tilia is to blame for this).
The first discussion we had was about the Russian style fry sauce that would accompany the sandwiches, because let's be honest… everything is better with sauce.
Hubby devoured this one and has decided the sauce needs to be a staple in our home. Apparently, it would be good on everything!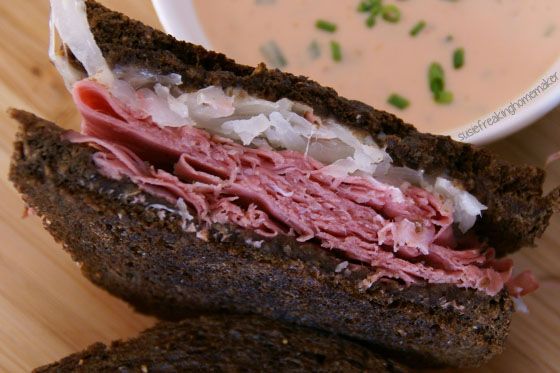 Reuben Sandwich with a Russian Style Fry Sauce
Yield: 2 servings
Prep Time: 20 minutes
Cook Time: 10 minutes
Total Time: 30 minutes
Ingredients:
Ingredients for the Fry Sauce:
1 cup of mayo
1 1/2 teaspoon dijon mustard
1 teaspoon fresh lemon juice
1/3 cup ketchup
2 tablespoons dill relish
1 clove of garlic, minced
handful of chives, minced
2 tablespoons grapeseed oil
Ingredients for the sandwiches:
1/4 lb. pastrami, sliced so thin it's starting to fall apart
1/3 cup of sauerkraut
2 slices of swiss cheese
4 slices of pumpernickle bread
1 tablespoon butter
Directions:
1. Pour all the ingredients for the fry sauce into a bowl and whisk them together. Set aside.
2. Butter one side of each slice of bread. Place two of the bread slices butter side down in a large skillet. Add pastrami to each slice of bread, then sauerkraut, and top it with swiss cheese. Add the next slice of bread to each sandwich, butter side up.
3. Cook on medium heat, flipping once. The sandwich is ready when both sides are brown and the swiss cheese is melted and gooey.
4. Serve with the sauce on the side.