Reupholster Project
This is how I spent my labor day…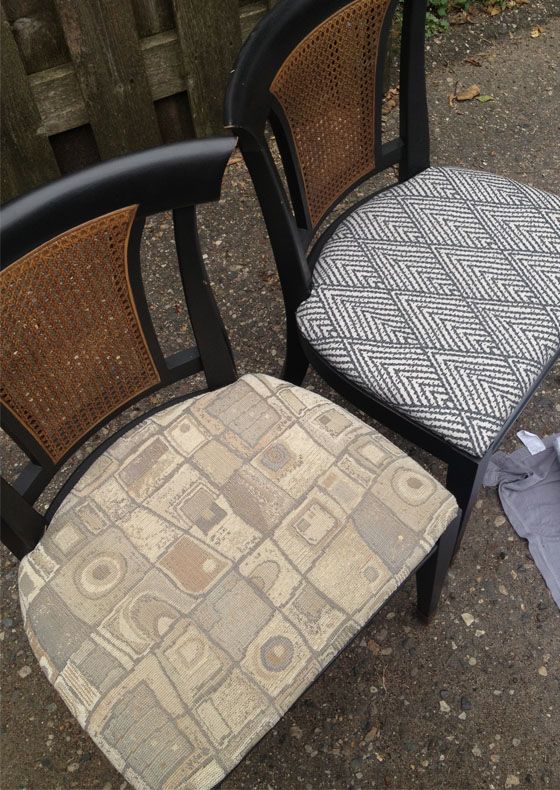 Oh yea, I reupholstered my dining room chairs. And you know what? I love the satisfaction of knowing I did it myself even though they are far from perfect.
I inherited my dining room set from my sweet grandma Alice and from the moment I got them into our home I knew they needed to be re-done. Fast forward through the last few years and it will bring you to the conversation that was had just a few weeks before labor day.
Mrs. "Why don't we ever sit down at the table and have dinner together?"
Mr. "Because those chairs are uncomfortable"
Mrs. "I can fix that"
Fix that I did. Hubby actually uses the chairs now, which I consider to be a huge win for me! Now, since I didn't re-invent the wheel here I'm not going to post a step by step guide of how to do this. But, I will give you a few tips!
This is an outside job, seriously
Use an old sheet or a huge piece of cardboard as your work space – it will catch all the staples
Don't let your dog convince you she's going to help you
You need two sets of hands to pull the fabric tight enough to prevent any loosening after the fact
Do them all in one day, seriously – you won't go back to this job, it takes too much effort
Also, you should probably have band-aids and neosporin handy. I needed two.
The funny this about this project is that it makes me so painfully aware of my upcoming birthday. I used to spend holidays at the pool drinking beer and now I see it as a chance to get a project like this done. I'm not upset about growing older, I embrace it head on, but it was just that moment of … oh shit. I'm all grown up.