Vegan Granola
If I had known how easy granola was to make, I would have been doing it for years. This granola has deep and complex flavors that will make your tongue happy. Try it over yogurt, on your favorite cereal or add it to your favorite muffin recipe.
Rise and grind people – it's time to get back to work! Oh you're not ready? Me either. However, I am totally ready for FALL! I am looking forward to all things pumpkin, apple, scarves, boots, long sleeve shirts, and pretty leaves!
September is almost my favorite month of the whole year, and I've got some great things planned for this one! This year I will be attending the healthy living summit! I was so excited when I found out it was going to be in Minnesota! Love when that happens!
I spent Labor day weekend in Colorado Springs with my dear friend Sandy. You remember her…
We clearly don't have any fun together! I will upload more pictures from the long weekend later this week. The purpose of the weekend was mainly to get some wedding planning done for her upcoming nuptials. So, we tried on our dresses next to each other and got the to-do list ready for the next few months. Then, we had some fun!
I made this granola right before I left for the weekend, I had this thought in my head that I would pack some for the plane. You're wondering how that worked out for me, right? Yea, it didn't. I forgot it on the kitchen table. Good thing it keeps!
Oh and in case you're wondering – I'm not going vegan on you. I just want to add a few more healthy recipes to my "go-to" section when I'm in a pinch.  The fact that this one is portable and versatile is just a bonus.
This morning I had about 1/3 of a cup of this stuff on top of my apple cinnamon greek yogurt. It paired pretty perfectly and got me going. (Especially since I am not having caffeine this week – long story – but the bottom line is that pumpkin spice lattes are calling me and I must resist.)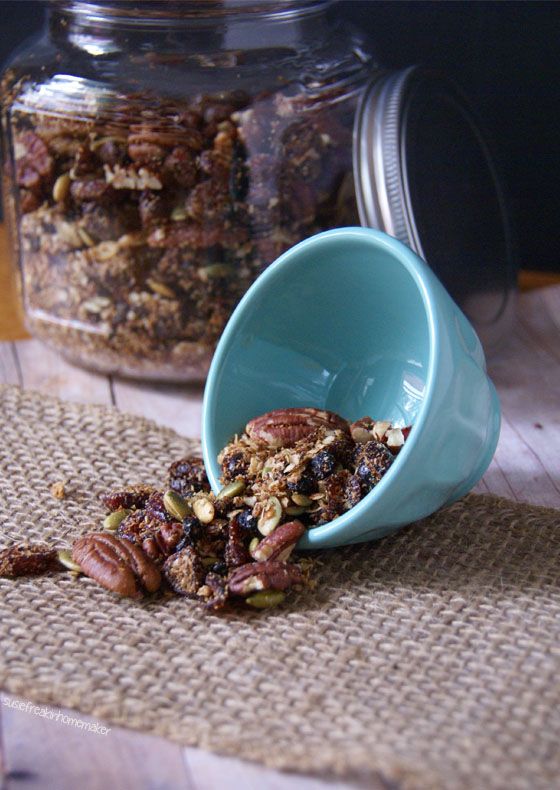 Vegan Granola
Yield: 4-6 servings
Prep Time: 20 minutes
Cook Time: 40 minutes
Total Time: 1 hour
Ingredients:
1 and 1/2 cups of quinoa flakes
3 tablespoons ground flax
A pinch of corse salt
1/4 cup of maple syrup
1/4 cup of olive oil
1 and 1/2 cups of raw pecans
1 and 1/2 cups of raw pumpkin seeds
3/4 cup of dried blueberries
1 cup of dried cranberries
Directions:
Preheat your oven to 350 degrees and line a cookie sheet (one with a lip around the edges) with parchment paper. Pour your raw pecans and your raw pumpkin seeds onto the sheet. Spread them out thinly. Place in the oven for 10 minutes. When that is done, pour them into a bowl and add a pinch of salt. Stir together and place in the fridge until they are completely cool.
Raise the temperature of the oven to 400 degrees. In a large bowl, combine your quinoa flakes, ground flax, maple syrup and olive oil. Stir until well combine and lay it out on your parchment paper lined cookie sheet and place in the oven for 25 minutes. Stir the mixture every once and a while as it cooks. Remove when it's all golden brown and delicious. Place in a bowl, and then into the fridge until completely cooled.
In a large bowl combine all of the ingredients together and stir well. Store in an airtight container.