Cinnamon and Vanilla Bean Applesauce
This is a simple variation on a classic applesauce and when the smell of it on the stove fills your house you will think you've died and gone to heaven.
So, funny story… my dad has an apple tree. Well, ok, I guess that's not so funny. What's funny is that they've had it for 11 years and this is the first year they have gotten apples. They waited each year for apples and got nothin' so this year when they started to see apples pop up they were ecstatic. I don't think they really understood how many they would be getting though, so last weekend I went over and I loaded up on apples.
When I got home Mike gave me a questioning look, you would think that coming home with a bag full of produce would be a normal thing, but apparently not. I wasn't sure if I was going to make turnovers, or pie, or just plain eat them.
After a few days applesauce was all I could think about. I also knew I had a vanilla bean just chillin' in the cabinet waiting to be used.
I really must admit that applesauce is one of my favorite things to make. It's one of those simple dishes that requires very little effort and it always impresses people when you tell them you made it yourself. Perfect for a pot luck, a friend who just had a baby, or just you. Let's be honest, you totally deserve it!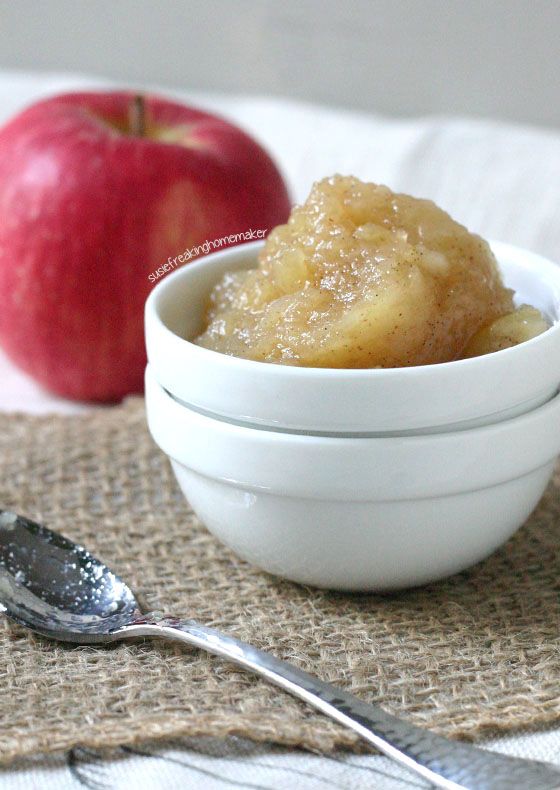 Cinnamon and Vanilla Bean Applesauce
Yield: 4-6 servings
Prep Time: 10 minutes
Cook Time: 15 minutes
Total Time: 25 minutes
Ingredients:
10 of your favorite apples
1/3 cup of sugar
1 vanilla bean
2 teaspoons cinnamon
Directions:
1. Peel all of your apples, and slice them thinly. Place in a large pot. Put the pot under the sink and turn the sink on and immediately shut it off. Very scientific, yes? You literally want just the tiniest bit of water in the pot.
2. Place on medium heat covered. You want to steam the apples until they are cooked through. This will take somewhere between 10-15 minutes. Then, using a potato masher, smush the apples until you get the desired amount of chunks.
3. Stir in your sugar and cinnamon. Cut your vanilla bean open and scrape the little bits of heaven into the apples. Stir together.
Serve warm or cold, up to you!