Kale Quinoa
This quinoa is packed with dark leafy greens and mushrooms and topped with poached eggs. It's a protein packed dinner and it's on the table in under 30 minutes, you really can't go wrong with this dish.
Can we please talk about this picture? Abby took one step outside before our walk the other night and started to shiver. So, I stuck her in her jacket and on we went. My husband was absolutely mortified that we were those people. But, it was hard to deny that it was necessary. We ended up being able to stretch our walk by an additional 20 minutes. (That's a lot for a little dog!)  Abby ended up sleeping the rest of the afternoon and straight through to the next morning.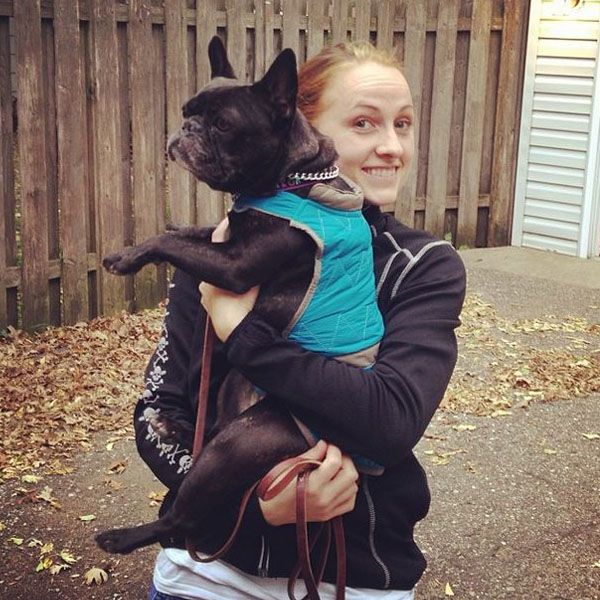 Abby doesn't get walked very often, because she doesn't like other dogs. No, not even your dog who loves other dogs and is so timid and shy. My dog will even try to eat your dog. She's unassuming and she uses it to her advantage. We throw the tennis ball at home and run her around everyday. But, when we walk her we avoid other dogs by crossing the street and walking on the other side. Or in this particular situation, we walked on the street and put ourselves between her and the other dog that was passing us.
Typically, dog owners get the point that we are trying to avoid. Unfortunately this couple didn't seem to get it. So, we ended up with their dog getting far too close to our dog. Abby went bananas. I always feel like I have to apologize and shout "she was attacked once!". An explanation isn't required, I guess. She loves people (except for that pesky mailman) and people love her, but I am a little sad she will never have puppy friends.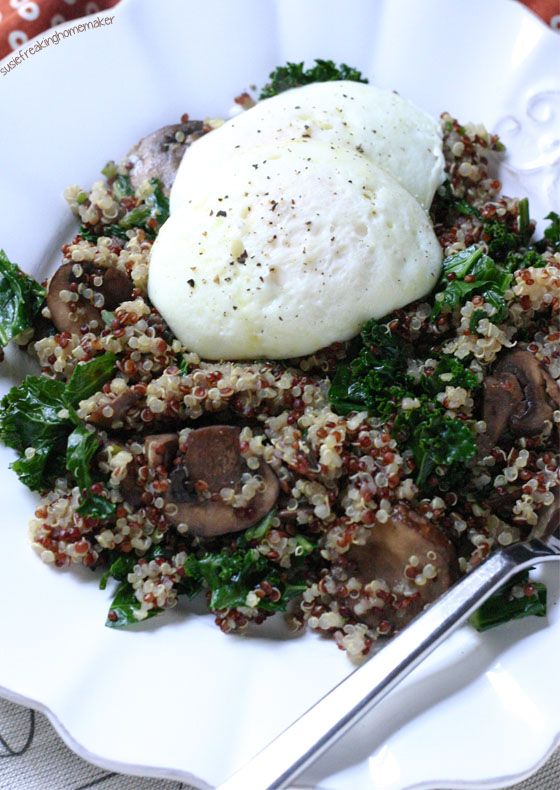 I haven't been good lately at keeping up with my friends. I have been spreading myself a bit too thin. So, when I realized I had a few extra hours in my day over the weekend I made a point to catch up with one of them. I invited myself over to her house and decided to bring dinner. (It pays to be friends with a food blogger people.) I had no idea what I was going to make, but once I hit the grocery store I quickly filled my basket with ingredients.
I whipped it together pretty quickly and it turned out so well that I made it again the next day. I think I've decided that I like this dish better when it's warm rather than cold. It pairs perfectly with poached eggs and roasted sweet potatoes. Oh and red wine.
Kale Quinoa
Yield: 2-4 servings
Prep Time: 10 minutes
Cook Time: 20 minutes
Total Time: 30 minutes
Ingredients:
2 cups of quinoa, cooked
1 lb. mushrooms, sliced
1 1/4 cups of kale, roughly chopped
1 1/4 cup of spinach, roughly chopped
3 cloves of garlic, minced
3 green onions, minced
2 tablespoons olive oil
Salt and pepper, to taste
Directions:
1. In a large pot, cook your quinoa per the package instructions.
2. In a large saucepan, heat your olive oil. Saute your garlic for about a minute. Add your mushrooms and cook for about 5 minutes until they are soft. Add the kale and spinach and saute another 5 minutes until the spinach and kale are cooked.
3. Add your cooked quinoa to your saucepan and heat through.
4. Top with your favorite style of egg and devour!