Mussels in Spicy Broth
Mussels are a favorite in our house and we order them as an appetizer whenever we get the chance. This version is simple and if you like red sauce on your pasta, this broth will be a huge hit at your house too.
Yesterday, dear readers was my birthday! I spent it staring at fall colored leaves and being lazy with my husband. So, I am starting this work week feeling refreshed for a change! I feel like that never happens any more. Can I just say that I was beyond spoiled… BEYOND. I am so very blessed, and life with my husband is pretty fantastic.
We slept in, ate delicious food and spoiled our puppy rotten. We managed to pack everything we needed for the weekend, except dog food. So, our little diva got to have chicken and rice instead of doggie kibble. She was so freaking happy. She also loves the cabin as much as we do, because that little goof ball gets to run as much as she wants.
Anyway, we got home from the cabin with it's dreary weather and beautiful fall colors, and I promptly parked my butt on the couch. Before I knew it I was completely and totally sucked into the latest fall TV shows. Michael J Fox's new show is hilarious if you haven't seen it you should really give it an hour of your time. I also watched the pilot episode of Sean Saves the World – Sean Hayes' latest show, I'm not 100% on board, but I actually laughed out loud a couple of times so I'll give it another go.
Now, Scandal on the other hand? SO ADDICTING. The first episode of season three is actually a pretty nice little recap of the first two season, so if you're in the mood to get completely and totally sucked into a fall tv show – go with Scandal!!! I spent half of the second episode explaining all the drama to my husband, who has officially made the smart decision to catch up and watch it from the beginning. You have got to love Netflix. Is anyone else watching it?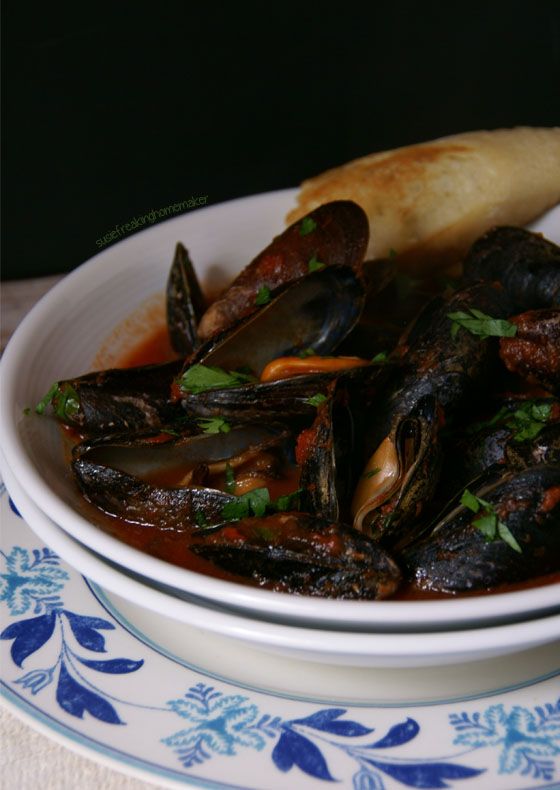 My very first memory of cooking mussels just so happens to be with my husband. At the time we were dating, newly 21 and smitten with each other. We boiled those mussels in white wine and shredded salty cheese all over it and we devoured those suckers like you wouldn't believe.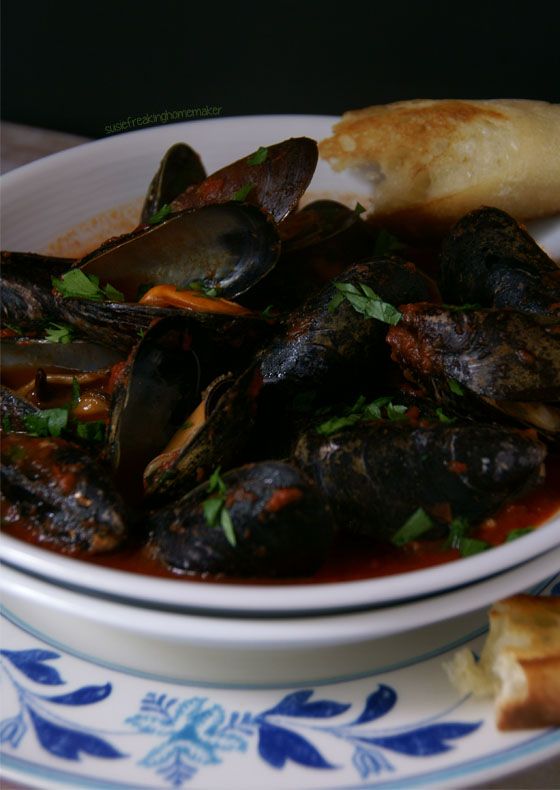 Mussels in Spicy Broth
Yield: 2 servings
Prep Time: 10 minutes
Cook Time: 25 minutes
Total Time: 35 minutes
Ingredients:
2 tablespoons olive oil
3 cloves of garlic, minced
1 tablespoon crushed red pepper flakes
1 (15 oz.) can crushed tomatoes
2 teaspoons sherry wine
1/2 teaspoon sugar
1 tablespoon butter
1/4 cup of parsley, chopped
1 pound of mussels, scrubbed and debearded
Slices of baguette, toasted
Directions:
1. In a large saucepan, heat the olive oil to medium heat. Saute the garlic and crushed red pepper flakes for about 1 minute. Add the remaining ingredients, except for the mussels. Bring to a boil and cover for 10 minutes.
2. After 10 minutes, pour in the mussels and stir once. Cover for 5-10 minutes until the mussels have all opened. Discard any that haven't opened. Garnish with extra parsley, serve in a shallow bowl with the broth and crusty bread.