Ground Chuck Sloppy Joes
Sloppy Joes are so underrated, this version is both savory and sweet. Add a toasted bun and the combination leaves nothing but crumbs on your plate. Add a handful of your favorite chips and dinner is complete.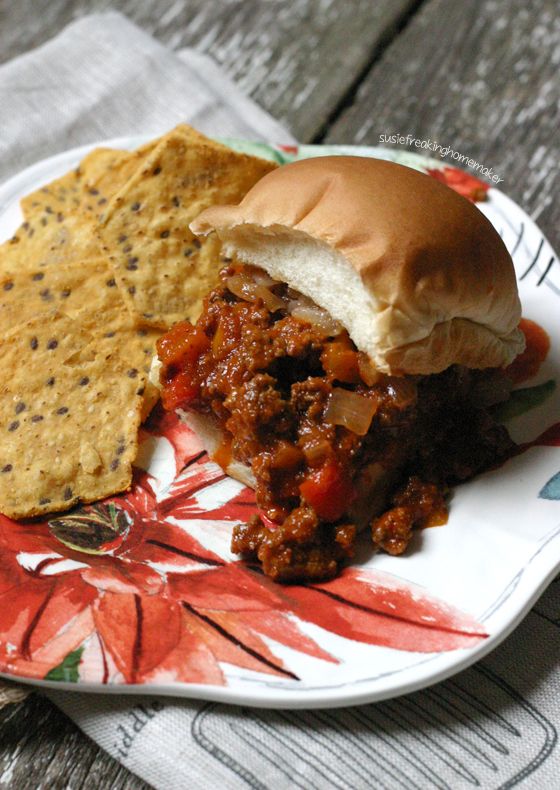 I haven't had much time for posting lately, my apologies. The holidays always have me scrambling a little. On the bright side, my Christmas shopping is done and next up on the process is my favorite part… wrapping! Much like my day job, I enjoy seeing constant progress on things. So, I find it immensely satisfying to watch a bunch of boxes become beautiful gifts for my family and friends.
I'm still feeling like I don't have enough time before the holiday to get everything done. Who on earth decided that this year we would have such a short period of time between Thanksgiving and Christmas!? They should be taken out back and dealt with harshly.
Shortly after Thanksgiving, something really delicious happened. I made a sandwich out of the leftovers in our fridge, and instead of making it a normal sandwich, I added a third slice of bread, club sandwich style. But, I didn't add just another slice of bread, I covered that toasted slice of bread with leftover gravy.
If you are thinking about the episode of friends where Ross goes ape shit because someone ate his Thanksgiving leftovers sandwich we are on the same wave length. The slice in the middle is what Ross calls the "moist maker". All the years I have watched that show, I finally made the moist maker sandwich. You know what? it was AH.MAZING and I would have gone ape shit on someone for eating mine too!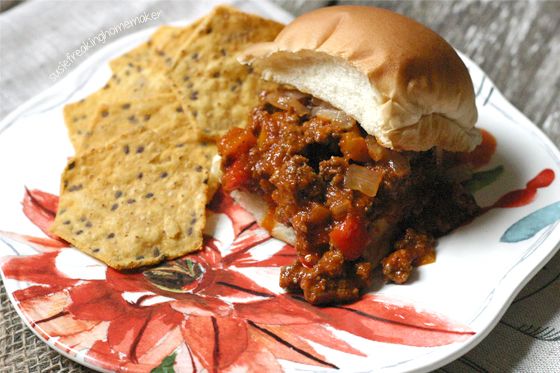 I suppose I should talk about these sloppy joes, amiright? Mike covered his in cheese and devoured it. I was jealous, but I simply added caramelized onions to mine. They really don't need anything else, they are delicious on their own. Feel free to use ground beef or ground turkey or even ground sausage if you would like.
Ground Chuck Sloppy Joes
Yield: 6-8 servings
Prep Time: 30 minutes
Cook Time: 15 minutes
Total Time: 45 minutes
Ingredients:
Ingredients in the BBQ Sauce:
2 tablespoons olive oil
1 yellow onion, chopped
3 cloves garlic, minced
2 cups ketchup
1/2 cup water
2 tablespoons chili powder
1 tablespoon paprika
2 tablespoons Dijon mustard
2 tablespoons apple cider vinegar
1 tablespoon Worcestershire sauce
1 chipotle pepper in adobo sauce, optional (if you don't like spicy, skip this)
1/4 teaspoon cayenne
2 tablespoons dark brown sugar
1 tablespoon honey
2 tablespoons molasses
salt and pepper, to taste
For the meat:
1 tablespoon olive oil
2 pounds ground chuck
Salt and pepper, to taste
1 cup red onion, minced
1/2 cup small dice roasted red bell pepper
1/2 cup small dice roasted yellow bell pepper
4 cloves garlic, minced
Directions:
1. Start by making your BBQ sauce. In a medium saucepan, heat your olive oil and saute your onion and garlic until the onions are translucent. Add in your remaining ingredients and bring to a simmer. Simmer for another 5 minutes. Remove from heat, run your immersion blender through the mixture until it's smooth. Place back on low heat and keep warm.
2. Next up, the meat. In a large skillet, heat your olive oil on medium and saute your red onion, peppers and garlic and cook until just soft. Add in your ground chuck and brown. Drain off the grease, season with salt and pepper.
3. Pour the BBQ sauce into your skillet with the meat. Stir together and heat through. Serve on toasted buns and enjoy!
Notes:
If you want to take it to the next level, add a slice of sharp cheddar.